Build a strong brand for your Law Office.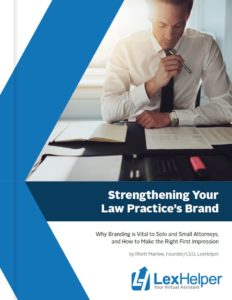 Is Your Law Law Firm's Brand All Smoke and Mirrors, or Do You Have Real Substance Behind the Curtain?
The following blog post includes a portion of the LexHelper white paper, "Strengthening Your Law Practice's Brand:  Why Branding is Vital to Solo and Small Firm Attorneys, and How to Make the Right First Impression."
Download the complete white paper for a deeper dive.

It's possible to build your law practice's brand quickly with some creativity, but if you're only tending to the brand touchpoints that front-end a customer engagement, you may be "found out."
Consider the movie The Wizard of Oz. In this case, let's look at the Wizard as the brand. Think about the power the Wizard had. Dorothy and her friends trembled before the Wizard, fearing for their lives. We all know the truth behind the Wizard. He was no Wizard at all, but simply a man. How was it that this simple man was able to create such an impression? It was all about perception. An audience with the Wizard was only granted by a "gatekeeper." Prior to seeing the Wizard, the visitor would walk down a long hall with large, heavy doors at the end. Finally, in the meeting room, the visitor never actually saw the Wizard; rather, they saw and interacted with a huge, frightening, ghost-like head flanked with smoke and lights. Very intimidating! All of this was done to create an impression—a perception of who the Wizard was. In this case, the Wizard was able to build up a "brand" in a relatively short amount of time. The "brand" he built up was much stronger than the actual truth behind the brand. Nevertheless, the brand was strong and carried with it the associated benefits.
An impressive sight! But can you back up the initial perception?
Can a practice perpetuate the perceived value of the Wizard while actually being responsive and delivering results? Of course, and that's the mark of a truly great brand. To find out how to put all the pieces together, download our complete white paper now.