Virtual Paralegal Services in Florida
---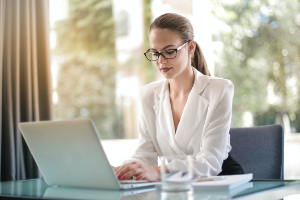 Experiencing growth in your Florida law firm is exciting because it means all your hard work has come to fruition. The years in law school, studying for the bar, and growing a new firm are behind you, and you're prepared to serve as many clients as possible. However, the common problem is that you don't have time to complete dozens of administrative tasks yourself nor the budget to hire a full-time paralegal. You might even have to turn down new clients because of this. Contracting for virtual paralegal services in Florida is a simple solution to this common dilemma.
What is a Virtual Paralegal?
The National Federation of Paralegal Associates defines a paralegal as a person who provides administrative support to attorneys, government agencies, or other legal entities. However, the duties of a virtual paralegal go far beyond that of a typical administrative assistant. The person you contract with must also have extensive legal education and knowledge of legal concepts to aid you in your work.
Why Should You Use Virtual Paralegal Services in Florida? 
The business world has been moving more toward virtual and contracting work over the last decade, and the legal profession is no exception. Virtual paralegals complete the same tasks as in-house employees without the overhead costs.
As a self-employed independent contractor, virtual paralegals in Florida arrange their work schedules with clients. They are also responsible for making quarterly tax payments to the Internal Revenue Service (IRS) and state governments.
What Can I Expect From Virtual Paralegal Services in Florida?
Florida virtual paralegal services are identical to what you would receive from an in-house paralegal. Examples of administrative, legal services that a virtual paralegal performs include:
Legal research, including past precedents in similar cases and any federal or state statutes that pertain to the current case.

Verify the accuracy of legal citations.

Analyze

legal issues

in a pending case and identify potential problem areas.

Prepare legal memorandums and briefs.

Locate and interview witnesses to help gather evidence in a pending case.

Review and correct information contained in legal briefs before the court case.

Scan and save legal documents to create a digital copy.

Assist in obtaining data and documents that could provide necessary evidence in the upcoming case by utilizing the Freedom of Information Act (FOIA). Virtual paralegals also respond to FOIA requests that your law firm receives from other parties. 

Maintain a database of active legal cases and complete follow-up actions with clients.
This list represents only a small portion of virtual paralegal services in Florida. Our placement service carefully reviews your law firm's needs against the skills and experience of the virtual paralegal before recommending a match.
Benefits of Virtual Paralegal Services in Florida
You probably realized within a few months of practicing law that your need for administrative, legal support isn't always consistent. Some weeks you need full-time help while you might not require as much support in slower times or between cases. 
Florida virtual paralegal services are ideal for this situation because of the flexibility the arrangement offers to both parties. The paralegal you contract with is free to work with other clients, and you only pay for administrative help when you need it. Virtual paralegals typically offer greater flexibility as well, including evening and weekend availability. You may have a more difficult time getting an in-house paralegal accustomed to traditional office hours to agree to a flexible, as-needed schedule.
Cost savings is another significant factor when deciding whether to contract for virtual paralegal services in Florida or hire an employee to work on-site. Here are just some of the financial benefits you can expect when working with a virtual paralegal:
No expectation to offer health insurance, dental insurance, paid time off, or other typical employee benefits.

You only pay an hourly or per-project rate for the Florida virtual paralegal services. With an in-house employee, you must pay for 40 hours of work or a salaried amount regardless of productivity or whether they always have enough work to do.

You do not need to withhold federal, state, Medicare, or social security deductions from the virtual paralegal's paycheck. As a placement service for virtual paralegals in Florida, we issue IRS Form 1099 at the end of the year that provides independent contractors the information they need to file a tax return.

You have no obligation to pay into the workers' compensation system, unemployment insurance program, or the employer's share of Medicare and social security taxes.
Because they are self-employed, people who offer virtual paralegal services in Florida often produce a higher quality of work to ensure client satisfaction. Many specialize in one law area such as bankruptcy, family law, personal injury, or criminal defense. That said, we confirm the education and experience of all virtual paralegals before recommending placement with a legal client.
Tips to Get the Maximum Benefit from Florida Virtual Paralegal Services
Clear and frequent communication is vital with any virtual working relationship. Be sure to state your expectations clearly with the paralegal before the two of you start working together. This should include a discussion of which duties take priority over others in addition to the paralegal's availability to complete work for you. 
Be sure to communicate often and let the independent contractor know of any upcoming changes or when he or she did an outstanding job. Lastly, it is essential to clearly state your expectations regarding client confidentiality since the paralegal will have access to significant amounts of sensitive data.
Next Steps
Lexhelper is here to assist you with locating the best virtual paralegal services in Florida for your law firm's needs. Please contact us today at 866-758-9728 to learn more about our Florida virtual paralegal services for your law firm.
Languages Our Paralegals Speak:
English
Spanish
Virtual Paralegal Services in Florida